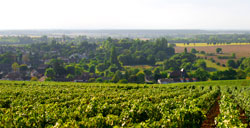 The Domaine Maratray-Dubreuil at Ladoix-Serrigny in the heart of Burgundy has been run by the same family for three generations. Now, the brother and the sister manage the domaine. The estate's 19 hectares are located in the villages of Ladoix, Aloxe-Corton, Beaune, Chorey-les-Beaune, Pernand-Vergelesses and Savigny-les-Beaune with different regional, village, village premier cru and grand cru appellations.
Grape varieties
Aligoté is the fresh-tasting grape that goes to make our Burgundy Aligoté. All our Other fine white wines are made exclusively from the Chardonnay variety. All the red wines produced on the estate are made from the Pinot Noir grape.
Vineyard and winery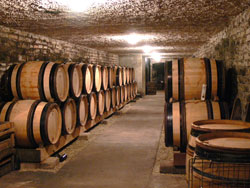 We take special care at every stage, both with the vines on which we lavish so much attention and with the harvest, done entirely by hand. The wine is then made in the traditional manner – though, of course, we have all the latest technological assistance – then barrel-aged : 12 months for the whites, 18 months for the reds.
Appellations Villages et Villages 1er Crus
Vins Blancs :
Pernand-Vergelesses «Les Vignes Blanches»
Ladoix 1er Cru «En Nagets» Monopole
Ladoix 1er Cru «Les Grêchons»
Savigny-les-Beaune 1er Cru "Les Vergelesses"
Vins Rouges :
Chorey-les-Beaune «Les Bons Ores»
Ladoix
Ladoix «En Nagets» Monopole
Pernand-Vergelesses 1er Cru

Pernand-Vergelesses 1er Cru «Ile des Vergelesses»

Savigny-les-Beaune 1er Cru «Les Vergelesses»
Aloxe-Corton
Aloxe-Corton 1er Cru
Appellations Grand Crus
Vin Blanc :
Vins Rouges :
Corton «Les Grandes Lolières»
Corton-Bressandes

Corton Clos du Roi
Besides these specific appellations, the estate also makes generics such as Burgundy Red and Burgundy White, not forgetting our Burgundy Aligoté that is perfect when mixed with Crème de Cassis to make a delicious «Kir».